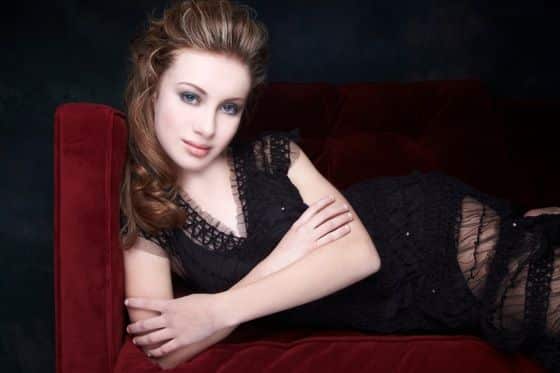 Katie Tuck's rich and powerful voice captivates listeners and can only be described as a gift from God. At only 14 years old, Ms. Tuck has already recorded in the notorious "Sound Kitchen" of Nashville, Tennessee. Tuck's powerful ballad "I Just Wanna Be a Girl" is garnering much attention and young Tuck is already finding herself being circled by some of the industry's most prestigious producers, songwriters, and managers. Catch her on her Website
A Virginia native, Katie grew up listening to mixture of country, pop, and rock music. Her idol is country superstar, Carrie Underwood. "She is so amazing and a great role model," says Tuck. Being a good person and setting a good example is at the very core of who Katie Tuck is as a person and as an artist. Tuck devotes her time and talent to numerous charity fundraisers including the National Children's Advocacy Center to help fight child abuse and neglect. "I believe that God has given me the talent, passion, and desire to do this. I believe that my music will be used to bring smiles, tears, and healing to people. I want to make a difference."
Tuck's passion for music is ingrained in her being. "Music means everything to me. It portrays the emotions and lives of people." It's only natural that Tuck would feel right at home in country music. "It's just who I am. It's music that people can relate to in everyday life." What makes Katie stand apart from others her age in the business is the undeniable fact her passion for music is genuine, grounded, and faithful.
Tuck pursued her passion by entering talent competitions and industry insiders were quick to take an interest. In a speedy trajectory, Katie made her way from her first talent show in 4th grade singing Hillary Duff's "What Dreams Are Made Of" all the way to Nashville's famed 'Sound Kitchen.' "Recording at the 'Sound Kitchen' was amazing. To record in a studio where so many professional artistrecord is such a huge honor. The thing I remember most about the experience is the love and support I received from everybody there."
"I Wanna Be That Girl" is a powerful ballad showcasing the strength of Tuck's voice which is far more mature than her 14 years. "It's about being strong," Katie says of the song. Katie sings 'I wanna be that girl, I wanna be that strong. Don't wanna care. Don't wanna cry when it's time to carry on." In "Forget", Katie emotionally belts out "I'll give you all my grace, but I don't have to stay and let you break my heart again, 'cause God never said I have to forget". Tuck hopes that this song is "an inspiration to people who have been cheated on or abused. Forgiveness is about letting go. Forgetting is about learning from the situation and not allowing it to happen to you again."
Through her songs, Tuck reflects the entire spectrum of emotions and experiences. She sings with such conviction that it's hard to believe the singer is so young. However, don't be fooled into thinking it's an act, Tuck knows and understands what she sings, adding to the power behind the music. In closing, a pearl of wisdom from Katie Tuck: "People can be vulnerable, yet strong at the same time, enabling them to rise and move on despite what life may throw at them." The wise-beyond-her-years Katie Tuck is a budding star sure to conquer the music scene as well as our hearts.
Interview with Katie Tuck and her parents